Women in America are frequently marginalized and stereotyped as simply being mother figures who must tend to "womanly duties." These stereotypical duties might consist of cleaning the house, raising children, supporting her husband, and suppressing her opinions. Being a woman in America often consists of either complying or going against these stereotypes and having to constantly defend the life choices of pursuing careers dominated by men. Being a woman in America who also identifies as African American is even more of a challenge because of the barriers further associated with racism and black oppression.
The Black Power Movement is frequently associated with the Black Panther Party and the image of the strong black man carrying a gun and wearing a black beret. What many people often forget is that women were key figures during this movement. Without women, the gains and successes of the Black Power Movement could not have been achieved. One women in particular both made a name for herself through her activism and writing that is associated with the Black Arts Movement1 and also was a close supporter and friend of other key leaders during this time period, Martin Luther King, Jr. and Malcolm X.
Maya Angelou was born April 4th, 1928 and spent her early life dealing with the struggles of being a Black woman during this time period. Overtime she was able to develop a sense of power within herself through her experiences. Prior to the Black Power Movement, she was also involved with the Civil Rights Movement and spent a good deal of time working as a writer and journalist.
While she was abroad working as a journalist in 1965, her friend Malcolm X asked that she return to the United States and work with him to create a new organization focusing on Black Power.2 She returned only for this endeavor to be cut short with the assassination of Malcolm X February 21st, 1965. With the loss of her friend she took some time for herself to recover. During this recovery period she worked as a singer and wrote screenplays in Los Angeles.
Two years later, opportunity presented itself and she moved to New York where she continued writing. By 1968, her friend Martin Luther King, Jr. asked her to organize a march for Black Power.3 Again, Angelou had the misfortune of experiencing yet another friend's assassination when King died on her birthday and did not follow through with the march. With such great loss, Angelou was encouraged by a friend to use this opportunity to motivate her to write. During the year of 1968 Angelou lost a friend but also produced a documentary series dealing with blues music and African American culture and she also wrote her famous autobiography, I Know Why the Caged Bird Sings.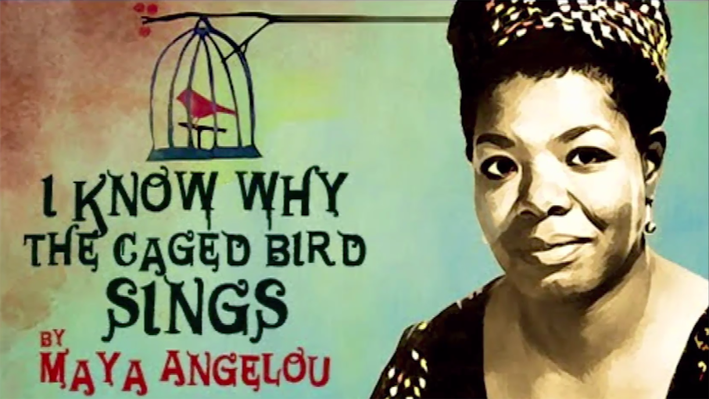 Angelou's childhood is chronicled in I Know Why the Caged Bird Sings and was one of the first pieces of literature that captured the attention of audiences internationally with regards to women and Black Power. Angelou quickly grew recognition as a woman capable of overcoming experiences of profound racism through her strength and passion for literature. Such a raw and vulnerable autobiography of an African American woman provided readers with the success story of a black woman, published literature that did not exist prior.4
This book serves as a site of memory in the form of a material retelling of Angelou's childhood. The retelling of her childhood in the form of a distributable book was unpredictably capable of bringing positive attention to Angelou's life and oppression of African Americans. Further, because this book was well received and praised throughout communities supporting the Black Power Movement, Angelou's story is both particular and universal. Her story is autobiographical but many people are capable of relating to her experiences that she describes or are capable of understanding Angelou's perspective. Caged Bird is also represented in the form of a film and is processually changed from words to a visual representation.
With such a powerful story that works to fight against racism and oppression comes other forces that work to oppress the story and prevent it from being heard. Due to the brief mention of rape, parents have frequently petitioned to ban this book from being taught in class settings or offered in libraries of middle and high schools.5 The schools that do not ban Angelou's story often have it as an educational resource, further capable of teaching youth about the consequences of racism and providing an inspiration and support to those who relate to Angelou's struggles. In order for Angelou's story to initially be taken seriously, she had to stylistically write her autobiography in such a way that would be considered literature. This style of writing forced her to separate herself from her own self in some regard to formally present the story.4
Caged Bird retells the story of Angelou's childhood during a time when racism in America was present in a different form than today. Due to the progression of time and tendency to want to suppress certain cultural memories, younger generations of African Americans are able to better understand their heritage and familial experiences through reading Angelou's personal retelling. Racism is still present today and has many steps of improvement to take before equality is achieved. The current movement of Black Lives Matter has started to use the key theme of a singing caged bird in the form of protest. Members of this movement use this metaphor to say that they will no longer sing; they will no longer accept the racism they are still experiencing.6
Overall, Angelou's autobiography empowers members of the black community, especially women. Angelou's voice is heard by all who will listen and she speaks for those whose voices have not been heard.
Maddy Ponder
Work Cited
1. Foster, Hannah. "The Black Arts Movement (1965-1975)." Blackpast.org. Blackpast.org, 2007. Web. 18 Apr. 2017. http://www.blackpast.org/aah/black-arts-movement-1965-1975.
2. Academy of Achievement. "Interview: Maya Angelou." Maya Angelou Interview. Academy of Achievement, 22 Jan. 1997. Web. 18 Apr. 2017. https://web.archive.org/web/20060301192034/http://www.achievement.org/autodoc/page/ang0int-1.
3. Serwer, Adam. "Maya Angelou, Radical Activist." MSNBC. NBCUniversal News Group, 09 June 2015. Web. 18 Apr. 2017. http://www.msnbc.com/msnbc/maya-angelou-radical-activist#52461.
4. Walker, Pierre A. "Racial Protest, Identity, Words, and Form in Maya Angelou's I Know Why the Caged Bird Sings." College Literature, vol. 22, no. 3, 1995, pp. 91–108., www.jstor.org/stable/25112210.
5. Gowen, Annie. "In 2 Maryland Counties, the War Over Words." The Washington Post. WP Company, 11 Jan. 1998. Web. 18 Apr. 2017. http://www.washingtonpost.com/wp-srv/local/longterm/war.htm.
6. Harris, Darriel. "I Know Why the Caged Bird Stopped Singing." The Baltimore Sun. The Baltimore Sun, 24 Oct. 2016. Web. 18 Apr. 2017. http://www.baltimoresun.com/news/opinion/oped/bs-ed-caged-bird-20161024-story.html.
Links to Media
1. http://www.huffingtonpost.com/2014/06/06/maya-angelou-power-of-words_n_5462077.html?slideshow=true#gallery/351363/0
2. https://www.amazon.com/Know-Why-Caged-Bird-Sings/dp/0345514408
3. https://www.youtube.com/watch?v=qKvfM7eMRXU
4. https://manifestationyoga.files.wordpress.com/2014/06/unknown1.jpeg
5. https://unctv.pbslearningmedia.org/resource/ang17.ela.history.setting/maya-angelou-and-still-i-rise-memory-and-setting-in-i-know-why-the-caged-bird-sings/#.WPZ1l1KZNE4
6. http://archive.naplesnews.com/news/education/fight-over-collier-textbook-review-could-be-sign-of-clashes-to-come-ep-882371104-335731081.html
Related Sites
Pauli Murray: One Woman's Contribution to the Black Power Movement